Below is part of the report from the Aberdare Leader dated the 2nd. Feb. 1924. To read the full report click here.
In the presence of what the Rev.E. Wern Williams described as a crowd he had never before seen the like of in Hirwaun, during the last 34 years, the clock tower erected in the Cardiff Arms Square as a memorial to the forty men of the village who laid down their lives in the Great War, was unveiled on Thursday afternoon. The ceremony was marked with due impressiveness, and solemnity.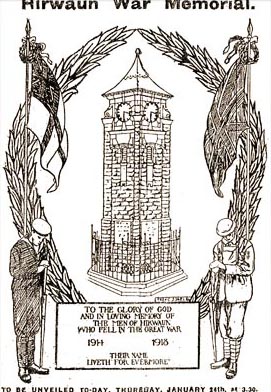 The rain that fell just prior to the formation of the procession near Nebo Chapel, seemed to create a general air of depression, but, out of the mists which gathered, the memorial rose high, and, twice or thrice as though to remind the bereaved relatives around, of the reward of supreme sacrifice. Struck the hour or half-hour with a note of serene felicity.