Below is part of the report from the Aberdare Leader dated the 2nd. Feb. 1924. To read the full report click here.
In the presence of what the Rev.E. Wern Williams described as a crowd he had never before seen the like of in Hirwaun, during the last 34 years, the clock tower erected in the Cardiff Arms Square as a memorial to the forty men of the village who laid down their lives in the Great War, was unveiled on Thursday afternoon. The ceremony was marked with due impressiveness, and solemnity.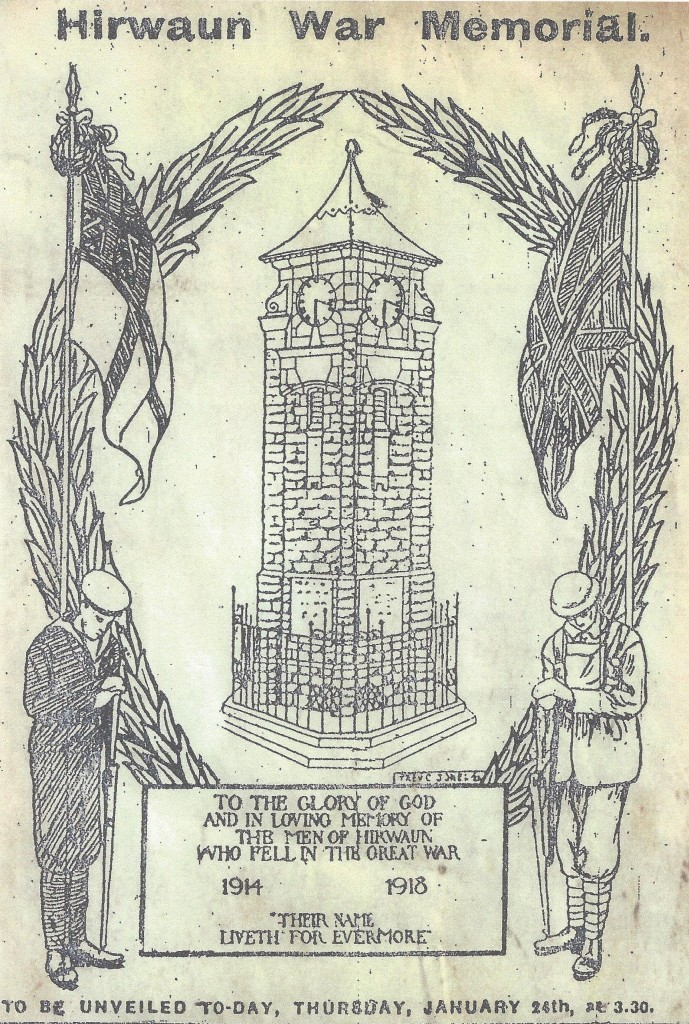 The rain that fell just prior to the formation of the procession near Nebo Chapel, seemed to create a general air of depression, but, out of the mists which gathered, the memorial rose high, and, twice or thrice as though to remind the bereaved relatives around, of the reward of supreme sacrifice. Struck the hour or half-hour with a note of serene felicity.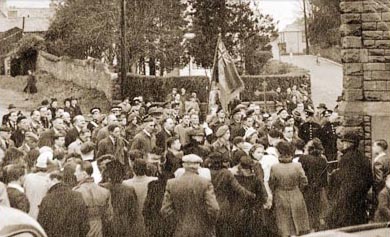 At the base of the memorial reads the inscription, in English and Welsh, "In honoured memory of the men of Hirwaun who laid down their lives in the Great War, 1914-19. "Peace perfect peace." And the following names of the forty heroes of the village:
Thomas Austin
John Ashley
William Bowen
Thos. Barnes
Richard Davies
Wm. Davies
John Dew
Morten W. Evans
John Evans
William Golding
Samuel Green
Arthur Gayland
Albert Harries
George Hewins
Gwilym E. Jones
John S. Jones
Ithel Jones
Thos. Jones
Wm. D. John
John Coomber
Henry Lewis
George Llewellyn
Alfred Morgan
Morgan Morgans
Albert Matthews
Albert Mallett
Hurbert Nunn
James North
George Powell
David Price
David J. Price
Roger Price
Samuel A. Paget
Evan J. Roderick
John Roberts
Samuel Starr
Joseph Shannon
William Smith
Alfred Thomas
Geoffrey L. Thomas
---
To Be Nameless in worthy deeds, exceeds an infamous history………. Who had not rather been the good thief than Pilate?
Back to History