NOW BASED AT HIRWAUN
Many years ago, four keen fly fishing friends met up in a café in Mountain Ash.  The year was 1958 and the four men were Major Steward Jones MBE, John Anthony Bennett, Glyn Jenkins and Angus Fussell, Solicitor.  They decided to approach the local authority (Mountain Ash Urban District Council) to ask permission to start a fly-fishing club on the reservoir in Penderyn.  This reservoir supplied water to Mountain Ash and district and as far as the writer knows, still does.
Permission was given and the club was set up on 20th. May, 1958.
The annual fee was set at £1 .6s.od. (Which would be £1.30p in today's money). Forty five full members joined, three students (at half price) and one old age pensioner (also at half price).
Today, 2013, the club is flourishing, there being 150 members and a number of non-fishing members and the fee is in excess of £90.  The club still leases Penderyn reservoir (now from the Welsh Water Authority) and another in the hills above Ystradfellte.  The Penderyn reservoir is stocked monthly with rainbow and brown trout but the Ystradfellte reservoir is kept solely for wild brown trout and is not stocked. Catch and release is expected on Ystradfellte and also widely supported on Penderyn.
Although members still join from the length of the Cynon Valley and even further afield, the club became Hirwaun based when the officers changed in the 1980's.  For many years, fly tying classes/meetings etc. were held in the now closed Football Club but currently, weekly classes are held at the Glancynon Inn fully supported by Mr. Alun Evans, the landlord, who is a vice president of the club.
Throughout the years the club has established an excellent reputation in international competitions and has provided many international fly fishers for the Welsh teams in all categories from youth up to senior level. That includes both men and women.
More information and contact details can be found on the club's superb web site:
www.mountainashflyfishers.yolasite.com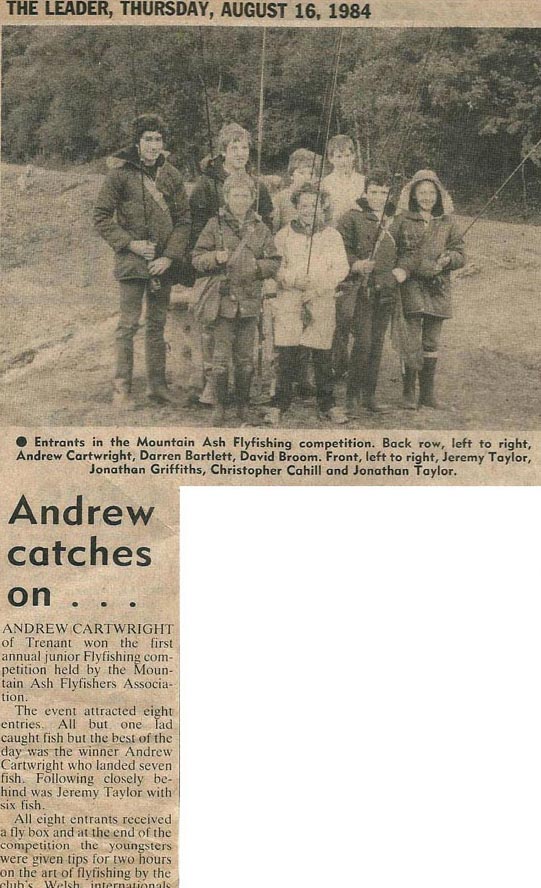 Back to History