A very prominent family in Hirwaun from the 1850s to the 1960s.' Bryncynon House' was the family home on Merthyr Road – known to the locals as 'The Plas'.  The family owned the very large 'London Warehouse' store on High Street which housed a grocers,  drapers and a pharmacy serving the public.
"One of the more colourful professional men in the village was the Chemist John E. George.  The family were the proprietors and makers of the famous Pile and Gravel Pills (Patented c. 1870) "The Marvellous Remedy for Pile and Gravel".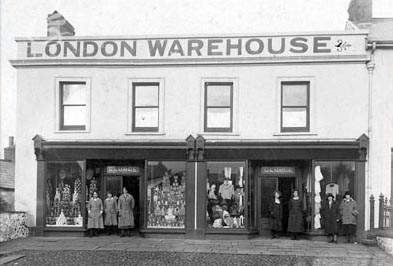 In 1865 John E George was also the Postmaster.  His son J. Owen George succeeded him.
Their remedies were sold in three forms: –
1. Pile and Gravel Pills.
2. Gravel Pills.
3. Pills for the Piles.
The boxes containing these products were labelled white, blue and red respectively and carried a Trade Mark of Eagle and Globe (and the warning beware of imitations!).  They were sold at 1/3d and 3/-  a box.
Another well advertised product of theirs was George's Cambrian Tonic Voice Lozenges formulated especially for singers and public speakers (after all we did have more than our fair share of preachers!).  These lozenges "Rendered the voice Melodious and Clear as a Bell".   At 3d. 6d. and 1/- a box they were highly recommended by the singer Edith Wynne (Agabeg), the Welsh Nightingale",  (Excellent!), the great Dr. Joseph Parry (A Treasure – take them before and after exerting the vocal organs), Owen Alaw (Efficacious) and Eos Morlais (Superior and a Great Acquisition)."
Mr. and Mrs. Owen George, with their own family having gone their own way, were the last to live in the village, and the shop staff were still packing and supplying their famous 'pills' into the 1950s.  Mr. George could be seen walking up from Merthyr Road every day, at a great age, to his shop.   The building existed until  the early 1960s when all that side of High Street was demolished to make way for the new council flats and a car park.
Back to History