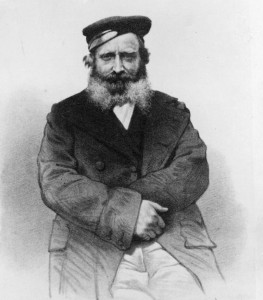 Francis Crawshay
1811-1878
(Picture courtesy of RCTCBC)
Francis Crawshay was the third son of the ironmaster William Crawshay II, of Cyfarthfa Castle, Merthyr Tydfil. In the early 1830s, Francis was put in charge of the Hirwaun Ironworks, which his father had acquired in 1819, and the new tinplate works at Treforest, near Pontypridd. Francis was regarded as a somewhat eccentric character: he refused to reside at Ty Mawr, Hirwaun, preferring instead to live at a cottage to the north of the works called Tir Gwyn Bach.
There was an eccentric streak about Francis. While at Hirwaun he refused to use the big house where Henry lived, but built a cottage and, instead of a brass plate on the front door, he had a huge block of coal with his initials cut on it to show this was his residence.
His father said once that, "Frank is spending my money as a devil of a pace at Forest," grumbled William Crawshay. Francis annoyed him because of his extravagance and indolence and complete indifference to the Crawshay, motto, "Perseverance." He was always ready to take a day's holiday and go shooting rabbits on Barry Island, a place he later bought and which was called by one of his descendants as "Crawshay rabbit—shooting box." He was popular with the workmen because he was the only one of the family that could speak Welsh and he was much fonder of chatting and swearing with them in that language than with hurrying up the production of iron bars and rails. He was also a great humourist and fond of practical jokes.
Francis was an extremely kind and brave man. After Henry went to the Forest of Dean, Francis was given charge of Hirwaun as well as Treforest, and he was at Hirwaun during the cholera epidemic of 1849. This was so severe that, to reduce infection risks through passing of money, each workmen had to pick his wages out of a pool of water into which they had been thrown, Francis refused to leave, even when the epidemic was at its height, gave lavish help to the sick and bereaved, visiting any of his workmen who were ill with the disease. Although not a religious man, he helped to establish several chapels and churches in the district.
Francis had married his cousin in 1837 (Richard Crawshay II daughter).
Back to Crawshays main page.