The village of Hirwaun – Long Meadow in Welsh – lies about 25 miles west of Cardiff and the same distance east of Swansea and is right in the heart of the old industrial area of South Wales.
The Hirwaun club was originally formed in 1881 and in that year played a fixture against Cardiff Corinthians. The impact of the First World War was such that the club went into abeyance in 1914 and did not revive until 1921. Till 1924 only one team was fielded by Hirwaun and then in that year a second fifteen came into being, and coincidentally with the All-Blacks tour of that year, they adopted the same colours as the tourists.
The Club's fortunes fluctuated in the period up to 1953 from which its present growth dates. Playing standards improved although it was some time before the club possessed a clubhouse. In the 1950s Hirwaun like so many other clubs used a public house, the Globe Inn, as its headquarters. There the idea was born the Hirwaun R.F.C. should have its own clubhouse. Thanks to the efforts of a hard-working committee, some of whom still serve the club, the clubhouse was opened in1963. Full membership of the Welsh Rugby Union followed in 1972, all the required standards, both on and off the field, having been satisfied.
The Club's badge has two elements; the tower in the middle represents one built by Crawshays, powerful iron masters in the area and also a name well known in Welsh rugby; the horses are a type bred locally called brocks, usually a blue rhone.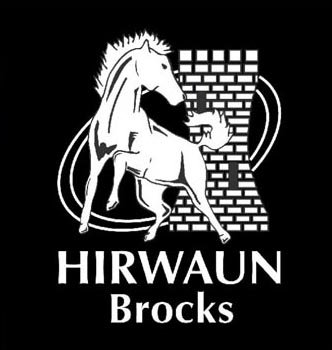 Over the years the Club have undertaken many Rugby Tours namely to England, Scotland, Jersey, Isle of Mann, Amsterdam, Miami in 1993 and Africa in 1997 to support the British Lions. (Courtesy of Mrs Jane Burke)
Two Hirwaun life members are familiar faces in Wales. Dai Morris capped 34 times for Wales in the sixties from Neath and now lives in the nearby village of Rhigos. The other is Keith Rowlands, Welsh International and British Lion, now on the R.F.U. committee and one of its representatives on the International Board.
We are grateful to Joe Burke, President of Hirwaun R.F.C. for these notes courtesy of Mansell Lloyd.
Back to History