Nebo, like the other non-conformists denominations in Hirwaun, commenced as a movement/cause in the early 1800's and they with the others worshipped in premises provided by George Overton of the Hirwaun lronwoks.
In 1822, they decided to move to provide a place of their own and so by 1823 Nebo Chapel had been built. The minister during this time of change was the Rev. Joseph Harrison who also had connections with Ebenezer (W.I.) Chapel, Trecynon and he
remained at Nebo until 1835.
The original chapel was enlarged in 1836 but this again was too small and so a larger chapel was built in 1851. In 1866, Nebo became the mother church of the newly opened Mount Pleasant (English Congregational) Church. Over the years the church has flourished and has been the centre of the cultural life of the village – Drama Society,Choirs & Eisteddfodau etc.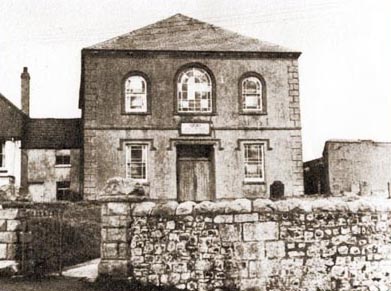 After the 1939-45 War, church attendances dropped and membership graduall y dwindled.
By the year 2000, the building showed signs of deteriorating and required intensive refurbishment. By this time Bethel 's building had fallen into to disreoair so their members combined in joint worship with Nebo. Unfortunately the condition of Nebo was getting worse and in 2008 Bethe/INebo members were grateful to the diaconate of Zion (English Baptist) Church, Foundry Road in allowing them the use of their church for their services.
Beth/Nebo continue to hold their services at Zion.