The Welsh Calvinistic Cause commenced in Hirwaun in the early 1800's and they shared premises provided by Mr. George Overton with the Baptists, Independents and Wesleyans.
In 1822 they decided that they wanted a place of their own and in 1823 Bethel Chapel was built in Bethel Place. Changes were made to the chapel in 1838. With membership increasing the chapel was enlarged again and the enlarged building was officially opened
in January 1857.
The first official pastor was appointed in 1866 – the Rev. W. Josiah Williams.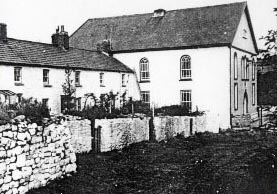 In 1893, a vestry was built and remedial work carried out on the chapel due to storm damage.
The congregation remained here until 1974 when the local council wanted the area on which to build council houses. The council provided a new chapel. They built the "New Bethel Chapel " on land known as Maes-y-Dderwen, next to Nebo Chapel, and was officially opened in January 1975.
They remained here for some 20 years when problems arose with the building – leaking roof, damp walls etc. Eventually the building was vacated and sold and the congregation held combined services with Nebo (Welsh Independants) at their chapel in 1996.
Nebo also encountered problems with their building and in 2007 the Bethel/Nebo congregation moved to hold their services at Zion (English Baptist) Chapel in Foundry Road.
Further reference – Bethel (C.M.) Chapel, Hirwaun 1823 – 2008 by Elfed Davies
Back to Churches and Chapels